http://www.kvalifood.com>
White Asparagus - Local Market Day - kvalilog_2
Every year when the winter seems to drone on endlessly, asparagus is one of the first new vegetables that comes into season. It brings me into a good mood every year. The green asparagus is good to use in  complex dishes, but the white asparagus can be eaten almost without doing nothing to them. For example cooked and served with melted butter and a slice of lemon. Or like in this recipe with Sauce Hollandaise and some of the other spring vegetables as garnish.
ingredients
4 servings

12 pcs. (1 kg (2 lbs)) white asparagus 

garnish
chives, finely cut
4 radiches
1 red onions 
butter
salt
cooked potatoes (optional)
4 poached eggs (optional )
hollandaise ( see my recipe here )

3 egg yolks
½ lemon, juice off (2-3 tbsp)
9 oz (250 g) butter
some water (optional)
½ tsp salt
a little white pepper (optional)
Directions
garnish 
If you want potatoes, peel them and cook those first. While they are simmering you can go ahead with the rest.
Cut the onions in half rings. Let them simmer at low heat in butter until they are golden and transparent. At least 10 minutes.
asparagus
Bring 1-2 quarts (liters) of water to boil. Add 1 tbsp of salt per liter.
Peel the asparagus from top to bottom.
Cut the bottom off. It is hard, tough and stringy.
Boil the asparagus for 7 minutes. If they are thick then add them to the water while the water is cold and let them warm up. If they are not too thick, then add them when the water boils.
plating
Cut the bulbs well.
Cut the radiches into as thin slices as your knife allows.
Poach 4 eggs . Or even better, cook them well in advance and put them into cold water until you need them. You can then warm them up in the boiling asparagus water for a few minutes when the asparagus are removed from the water.
Add a slice of ham to the bottom of the plate. I use air dried Parma Ham in the video. But a cooked ham is just as nice and easier to cut when eating.
Plate as pretty as you can. For example, as in the video. 
Notes
All the garnish are optional. The only important thing is asparagus and Hollandaise.
If you feel completely lazy you can easily serve the cooked asparagus only with melted butter and a lemon wedge.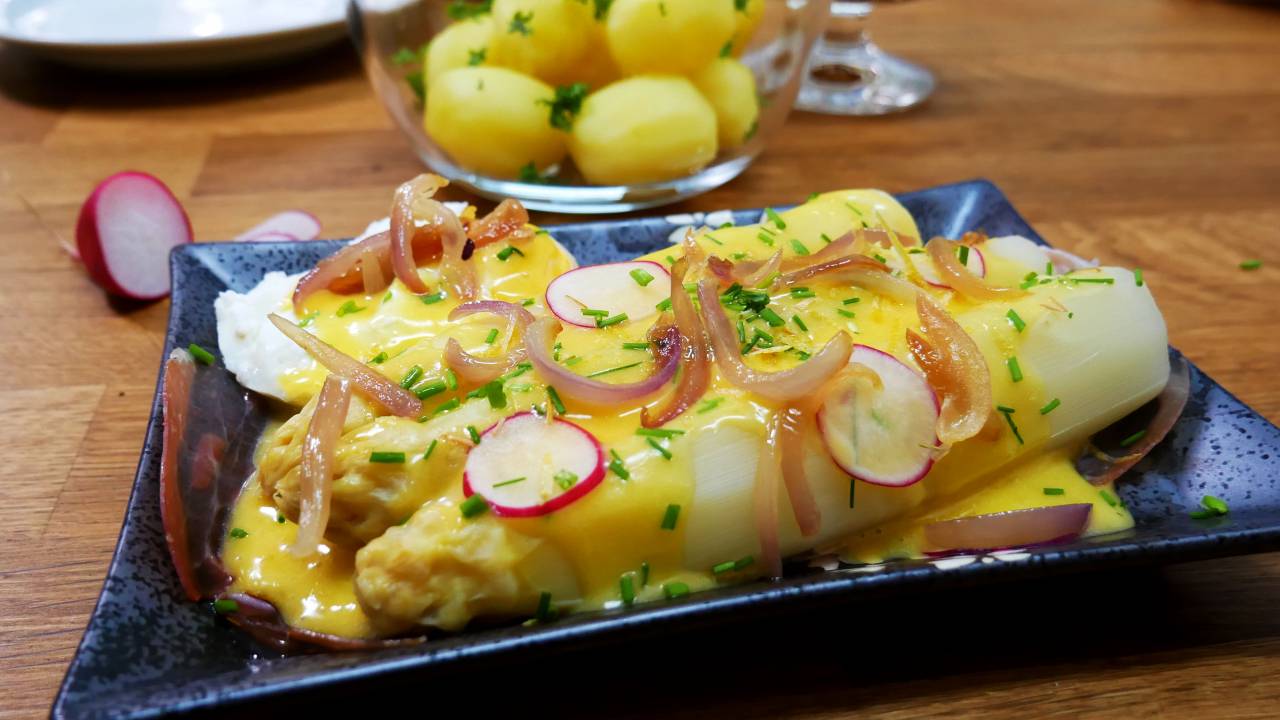 Done and delicious - White asparagus with Hollandaise, garnish and a poached egg
-
Max M Rasmussen