http://www.kvalifood.com>
Sherbet - Techniques and recipes - My "Secret Sherbet Method" - Rasperry, Mango and other Sherbets
Sherbet is the most simple ice creams to make. It takes literally 5-10 minutes of work if you prepare a little bit in advance. Of course you can make sherbet without an ice cream maker, but they are so much better with one, so I strongly recommend them. Especially the type with built in compressor/freezer.
Basic Syrup

Directions for basic syrup
Mix everything together in a saucepan and warm it up while you stir, until the sugar has melted.
Store in the refrigerator. For example, in a 1½ liter/quarts soda bottle.

Basic principles for my "Secret Sherbet Method"
Most sherbet's   can be divided into three ingredient groups. Syrup, flavor and consistency.
So the most simple way to go about it is to make a basic syrup that can be used for all kinds of sherbet, and then mix the flavor in until it tastes as you wish. The taste is usually fresh or frozen fruit.
Combine all ingredients in the syrup, except the egg white. If there are whole fruits, then peel them and blend them into the syrup. Sieve if necessary. For larger amounts you should pre-cool the mixture, if you do not have an ice machine with built-in freezer.
When the mixture begins to turn whitish and firm then add the egg white.
When the sherbet is frozen it dampens the taste. Therefore it must be extra sweet and extra sour before freezing. So I often add lemon juice to give it a little more acid.
When the "taste" does not have enough pectin to give the ice the right consistency. Then you use egg whites to give it the right texture.
Recipes
All recipes provide 1 liter of unfrozen sherbet as that is the portion that fits my ice cream maker. It will typically provide 1.2 liter/quart of frozen ice, as liquid expands when it is frozen and is being mixed with air in the ice maker.
Raspberry Sherbet Like In The Video
A Sherbet can ahrdly get any easier, or better,  than this raspberry sherbet. Powerfull and smooth. it is also easy to make year round, as it is always easy to get frozen raspberries.

1½ cup (375 ml) basic syrup
 1 lbs (450 g) raspberry
1-2 lemons, juice from (depending on size)
Lemon Sherbet
2 cups (500 ml) basic syrup
6 lemons, juice of
3/4 cup (175 ml) water
1 egg white
Sour Lime Sherbet ( Very sour :-) )
2 cups (500 ml) basic syrup
6 limes, juice of
1 tbsp lemon juice
(1 1/4 cup) 300 ml water
1 egg white 
Strawberry Sherbet
1 1/3 cup (350 ml) basic syrup
14 oz (400 g) strawberries
2 lemons, juice of
1 egg white
Raspberry Sherbet (Favorite)
1½ cup (375 ml) basic syrup
16 oz (450 g) raspberries
2 lemons, juice of
Tea Sherbet (Favorite)
Instead of boiling the tea you can let it soak in cold water for a day. This makes it less bitter.
1 1/4 cup (300 ml) basic syrup

2.5 cup (625 ml) cold tea - green tea, for example,
1 lemon, juice of
1 egg white 
Mango Sherbet
(See further below, past the pictures of the raspberry sherbet)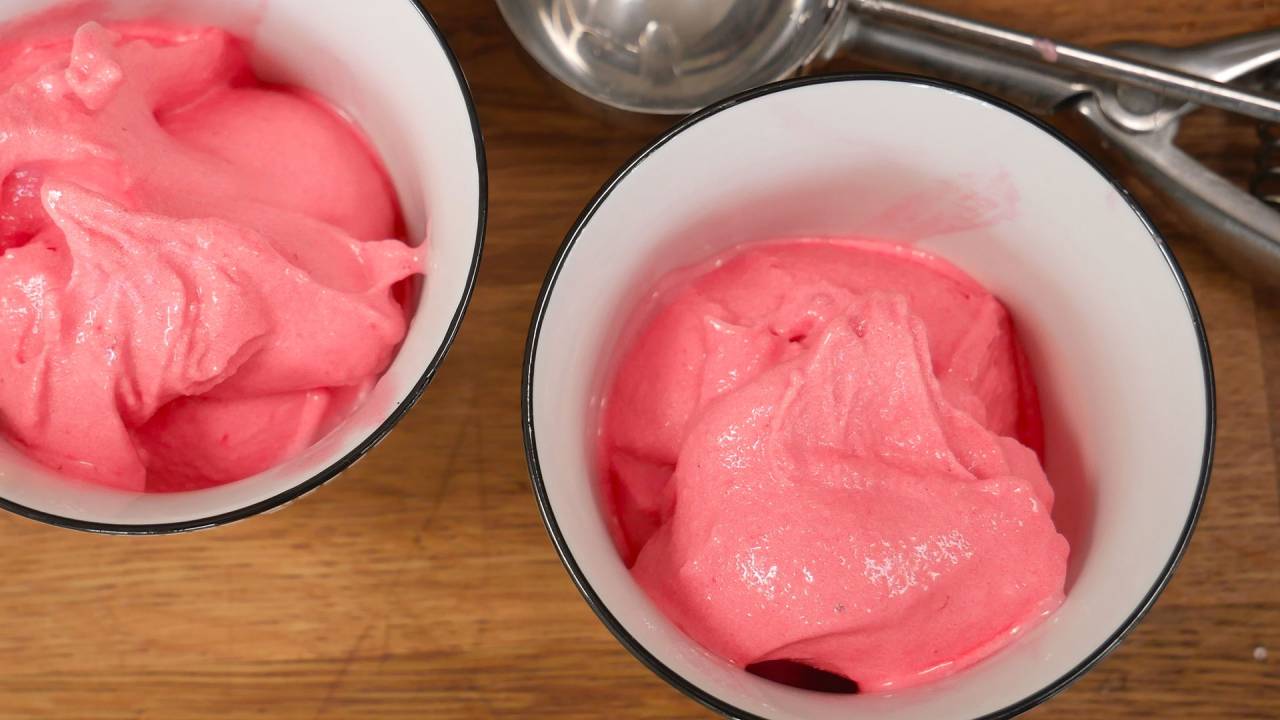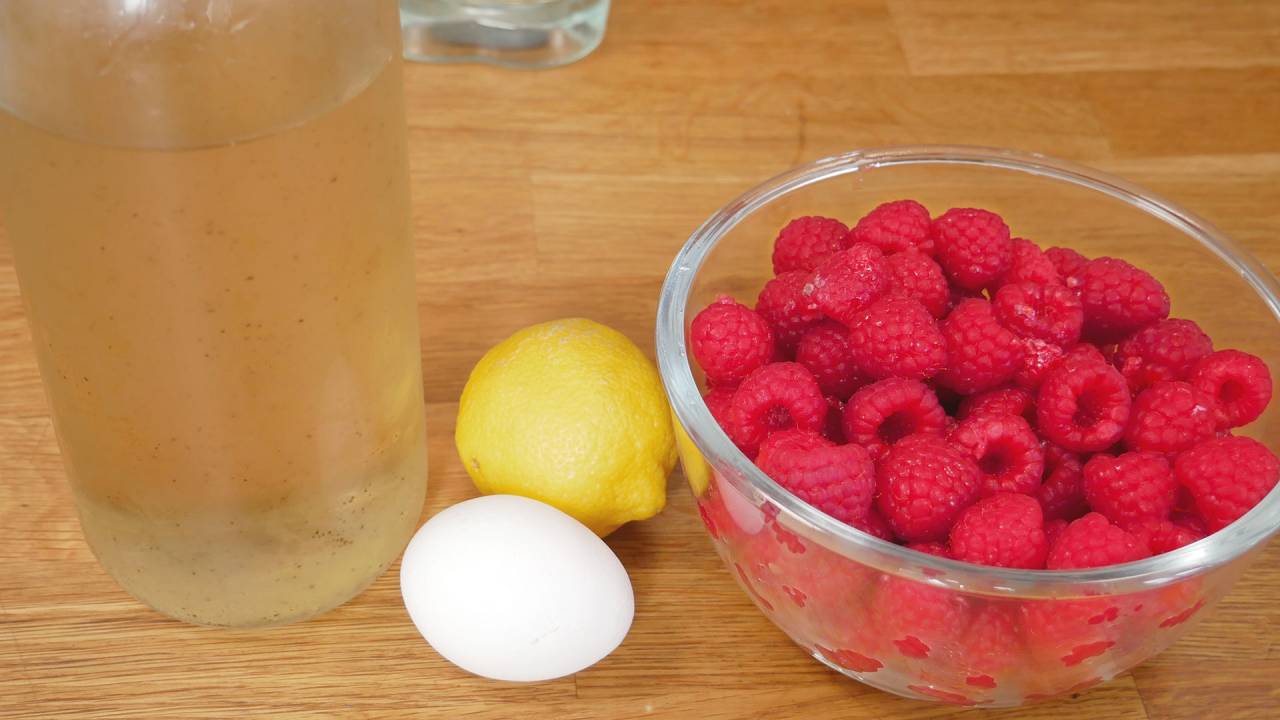 Mango Sherbet
Mango sherbet is one of my absolute faourites. If not THE favourite. When the mangos are in season, quite a few of them pass through my blender and icecream maker.

1 large fully ripe mango
approx. 1½ cup (400 ml) basic syrup
2 lemons
1 egg white
Directions
You can use the "sherbet method" for this recipe. Then you just cut the mango into ½ inch (1 cm) cubes and pour on the syrup.
In the video I use a slightly different method. I blend the mango up front, then I measure how much blended mango pulp there is. I add half as much syrup as that.