http://www.kvalifood.com>
Pompe - French puff pastry with lemon remonce
This is a cake recipe I have from my mother. A recipe she learned in the south of France. I do not understand why it is not a classic cake in all bakeries, as it is better than most that can be bought there. They taste is awesome and it is awesomely easy to make.
Ingredients
Yields 12 pcs.
1 serving puff pastry (or 1 packet of 450 g (16 oz) 6 pieces)
remonce
1 lemon, finely grated zest of 
1 orange, finely grated zest of
100 g (3.5 oz) sugar
100 (3.5 oz) g butter
100 (3.5 oz) g marzipan
1 dash of orange flower water (it's in the original recipe, but I never use it. Who has orange flower water in the cupboard anyway?)
garnish
a little milk for brushing
2 dl (1 cup) sugar (about 1 teaspoon per cake)
Directions
Mix the remonce. An electric mixer is handy. Using your fingers is just as easy though.
Cut all puff pastry pieces in half. Roll them out in one direction to approx. ½ thickness. So, they are 2-3 times as long as they are wide.
Smear remonce on 2/3 of the length of each of them.
Fold the side without remonce over the middle third with remonce.
Then fold the two folded sides over the last side of remonce.
Poke a lot of holes through the cake with a fork so it does not raise to high during baking. Squeeze the open edges tightly together with a fork, so they do not open during baking.
Brush with milk so the sugar does not fall off when you sprinkle it on. Use about a tsp of sugar on each.
Bake about. 20 minutes at 180°C (355°F)  (convection) until golden.
Notes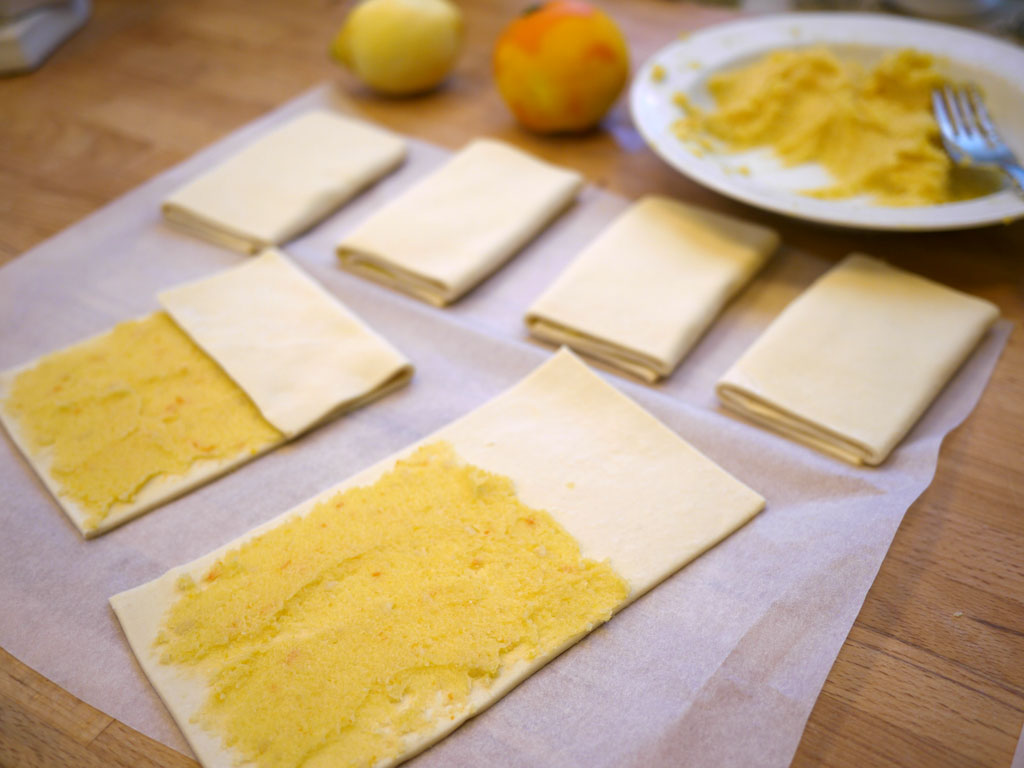 The remonce is on and they are in the process of folding.
-
Max M Rasmussen