http://www.kvalifood.com>
Nordic Nut Bread - Paleo Bread - Stone Age Bread
Video recipe - whew ... nuts are expensive. But this bread has still, in a short amount of time, become one of my favorite recipes. A bread which is made entirely from nuts, grains, seeds, eggs and oil. Everybody likes it. It is particularly good for cheese, charcuterie, Pâtés, etc. But it is also good with "ordinary" spreads. Or as a snack if you cut it into thin slices and roast it in a pan with a little butter.
Ingredients
Provides 1 loaf of 2.2 lbs, 20 slices of 1.8 oz. (Provides 1 loaf of 1 kg, 20 slices of 50 grams.)
dry ingredients
3.5 oz (100 g) pumpkin seeds
3.5 oz (100 g) sunflower seeds
3.5 oz (100 g) almonds
3.5 oz (100 g) walnuts
3.5 oz (100 g) linseed
3.5 oz (100 g) sesame seeds
3.5 oz (100 g) poppy seeds (optional)
3.5 oz (100 g) water (optional)
2 tsp salt
wet ingredients
Directions
Mix all the ingredients together, put the mass into a bread form. Lubricate if it is not "anti-stick"
1 quart (1 liter) bread form - bake for 1 hour at 320°F (160°C).
2 quarts (2 litres) bread form - bake for 1 hour at 320°F (160°C).
Notes
You will need approx. 1-2 eggs per 100 grams of nuts / grains / seeds, so it's easy to add extra nuts if you would like a larger bread. If you add 100 g of nuts extra then add one more egg. If you then add an additional 100 grams more of nuts/seeds, then add 2 eggs as well. Contract.
If you do put in some extra nuts, be sure to add extra salt and oil too:
0.4 cup  (1 dl) oil per 21 oz - 25 oz (600-700 g) extra nuts
1 teaspoon salt per 10 0z - 12 oz (300-350 g) extra nuts.
It is not very important as to what kind of nuts you use. If you are allergic or only have some nuts available, then just take 100 g extra of one of the kind you do have or can tolerate.
The only thing that is bothersome in this recipe, is to buy all the right so that you have them in the pantry at the same time. Well that and then to mix them. So I usually mix the dry ingredients for 4 loaves in freezer bags, that I can keep until I need to bake them.
The bread lasts for 3-4 days in a drawer. A lot longer in the fridge.
You can use pine nuts instead of poppy seeds. Feel free to try that if you win the lottery:-s
The bread tend to be a bit on the dry side, so I often put in the optional water.
Mini nut bars
When you  have to travel, or you need something for the lunchbox, it is also a good bread to bake in small cake molds / muffin tins. As a nutty "mini bread". They should bake about 25 minutes.
Zucchini for a moister bread
1 grated zucchini (about 9 oz (250 g)) - you can also use carrot
1 egg extra
You can get a softer and more moist bread by grating a squash and put that in the dough. It goes moldy somewhat faster at room temperature, so it must be stored in the refrigerator.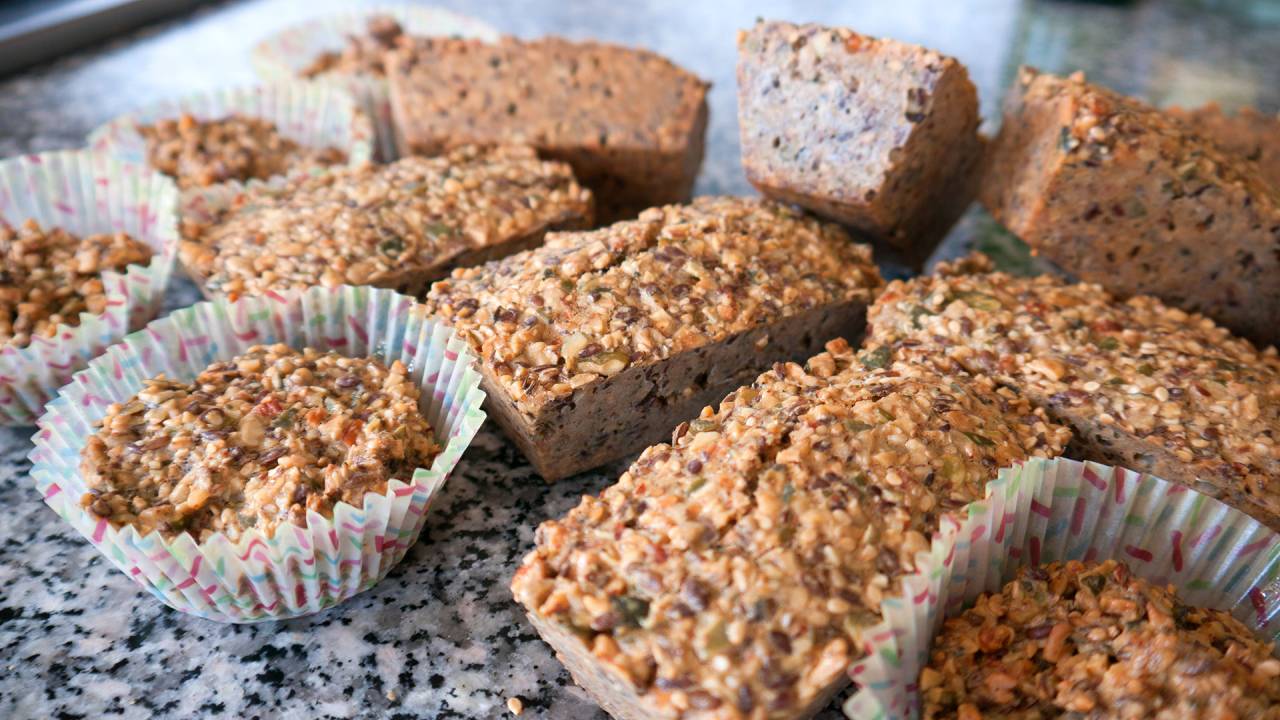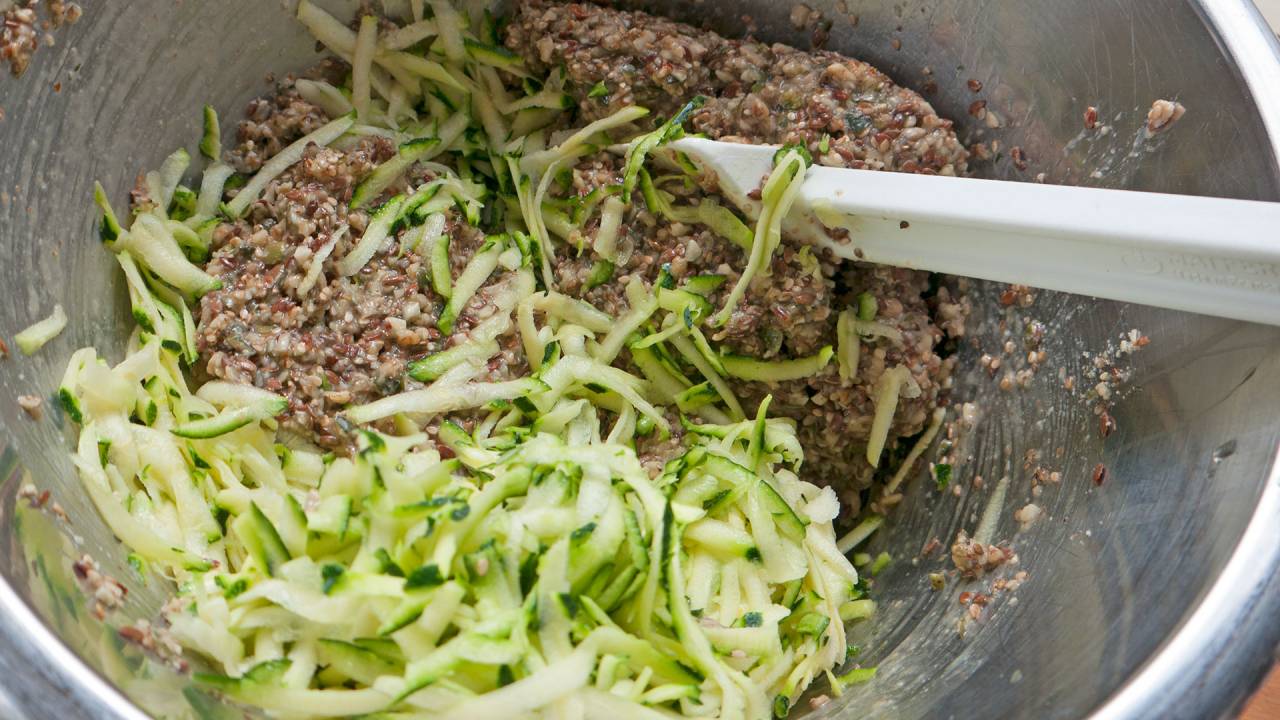 Excellent recipe, I eat this everyday now.
I have made it many times and I have some suggestions.
Do NOT add the poppy seeds, they taste like clay.
Use GROUND golden flax seed (linseed), bread holds together better. 
Use coconut oil, good taste and texture.
Don't bother with egg substitutes, the bread will not hold together without 5 eggs.
Add 1/2 cup of shredded coconut, 1/2 cup of golden raisins, a tablespoon of honey, two tablespoons of peanut butter (or any nut butter). Adding a banana is good too.
Melt the coconut oil and when it cools, mix in the nut butter, honey, (optional three tablespoons of water) and salt. Add this to the nut, seeds and egg mixture. Let it sit in the bread pan for 20 minutes before cooking. 
I order all ingredients from nuts.com. I have no affiliation, it's just convenient and reasonably priced.
Yah but this is probably 5x the calories of your normal which might at best be 100 calories. 
If you aren't eating sugar or refined carbs, then calories aren't critical. It's the kind of calories you eat. I eat zero processed food, zero sugar, and try to keep my carb count low. I have the same weight as I did when I was a teenager.
I love your modifications
Dear. Never bake  or cook honey as it producesAamah or toxins in human body on heating.
Sorry but it appears your wrong, What your talking about is hydroxymethyl furfuraldehyde which is found in coffee as well as honey and most sugar products.
People wrongly believe it to be toxic because it can kill bees as a result beekeepers that feed pasteurized honey to their bees.

Ignorance is more deadly to a human than cooked honey.

This is an Indian culinary believe from India and they have their reasons for not cooking honey. I disagree with you saying that is wrong.
Being an Indian, and a scientist as well, I can tell that heating honey does not produce toxins. Rather, heat kills the benefits of delicate minerals, antioxidants, and antiallergens which are heat sensitive. So, heating honey will still keep it sweet sans benefits.
This is a very delicious and rich bread. Enjoy it!

I too agree with you. It is right that in India no one cooks honey due to its toxicity. That is ignored in occidental society. 
Then stop putting in in your hot tea
Мне очень помогли ваши корректировки про мак и мед
Необыкновенно ароматен с медом!
I tried this bread and it didn't turn out as good as in the video, it was very crumbly and falling apart and very oily.  Not holding as a bread, I did add the water and realize in the video he didn't add water, Wonder if that is why it didn't work?  The water , oil, eggs didn't mix well - water and oil was bubbling out during baking. Next time I won't add water and wonder if a bit of psyllium husk might help hold it together.  
Perhaps you shouldn't mix the wet ingredients together but just add them one at a time in the dry ingredients mix, like in the video. Instead of water, I would add a banana or some apple sauce to give it a fruity flavour! You don't need Psyllium husks. Instead you can  grind some flax seeds.
I make this bread all the time.  I have never added water.  The trick to slicing is to have a very sharp knife.  I cut it extremely thin then toast it in the oven to make crisp crackers.  It is always a hit when
 I bring it to a function.  I have also added cacao and served the slices with cheese.  I may try adding cheese to the recipe in the future.
"I didn't follow the recipe and it didn't work. Is it because I didn't follow the recipe?"
Funniest comment I've ever read!
This looks fantastic! Thank you for posting. I'll try it this weekend. 
I'm not eating eggs at the moment. Is there an alternative?
Flaxmeal and water to make a paste! Let sit 5 minutes
Also unsweetened applesauce!
Безумно вкусный хлеб!
Спасибо за рецепт! Спасибо за советы в комментариях!
Лен дробить! Вместо мака использую семена Чиа - 50 гр


paleo nutbread
Just made my first Nordic Nutbread and I have to say that I rather like it BUT two teaspoons of salt is WAY too much! And believe me, I LOVE salt and always put extra salt on just about anything, but this was really, really too much. I'll just add one teaspoon next time and go from that. Thanks for the recipe! PS Instead of whole almonds I tried ground almonds (which I already had in the house) and I ground my flax seeds because if you don't they will just pass out the other end undigested and that's a waste of good nutrition imo but I can certainly percieve the appeal of whole nuts instead of ground nuts because the whole walnuts & pumpkin and sunflower seeds were a chunky joy!
paleo nutbread
Did you use a teaspoon measure or did you just use a reguler teaspoon? If you don't use a measure (it is 5 ml which results in 5 g salt) you can easily end up with a topped teaspoon, and thus twice the amount of salt in the recipe.
paleo nutbread
I used a measure teaspoon, which means five grams of salt per teaspoon, and since your recipe called for two teaspoons, that means ten grams of salt. WAY too salty, imo.
paleo nutbread
To quote myself from my article about the bakers percentage: "bread typically has a salt content of 1.5% - 2.5% salt" This recipe has 700 g nuts. And 10 g salt. That is 1.4% salt. Which is actually in the very low end. It cannot be directly compared since a lot of the salt in this recipe sits on the surface of the nuts, and in a normal dough is would be more mixed in with the flour. But it is certainly not "way salty". I just think you have a preference for lower salt in your food than most people. Which is absolutely fine.
paleo nutbread
I think you're conflating the weight of the bread and the volume of the bread. It might weigh 700 grams but a wheat loaf of bread of the same weight will have at least twice it's volume. In fact (according to Wikipedia) a standard loaf of (wheat) bread is made from 450 grams of flour. A standard stick of french bread from 225 grams of flour. This smallish nutbread, therefore, weighs as much as three french loafs. It's volume, however, is that of half a french loaf or a quarter of a standard loaf. The amount of salt you'd taste with one full mouthfull of your recipe would therefore be four to six times that of the amount in one mouthfull of wheat bread. Hence ended today's lesson in comparative density :)
paleo nutbread
No. You are thinking against hundred years of collective baking knowledge there. When you calculate a bread recipe it is practical to use the "bakers percentage". Exactly because you can compare the percentages of the ingredients directly. No matter if your bread weigh 1 kg or 1 lbs. The saltiness is by weight not by volume. As you chew the dough it will all get the same volume anyway. And airy dough would then become more salty according to your idea.
agree. WAY too salty. Next time I'll try 1/2 tsp max.
I don't see flax seeds in any form on the recipe?!?
They are called linseeds in this recipe.
Linseed is basically flaxseed 
I wonder if you by chance use a sea salt? I have used it for decades now, but a friend said it was too salty for him, and he cuts it down. So it could have depended on the type of salt you're using. The recipe's amount may be fine for regular table salt. 
In my experience... I use flaked sea salt in a grinder dispenser. 

I find that it is much saltier than any kind of finely ground salt.
That is my take on salt. Celtic SeaSalt has the best flavor and flakes retain so many minerals.

Agreed, too much salt. I scaled it back to 1 1/2tsp but I think 1tsp or less will suffice.
Nordic Paleo Bread
Hi, thank you for this recipe, it looks amazing and I am just about to try it, but I have some questions: What kind of oil do you use? Can I use cocount oil instead of oil? What do you think of replacing the eggs by psyllium husk?
I make this almost every week, one small loaf and a bigger one using whatever nuts and seeds I have at hand. Love to add hulled hempseed! Have added sauerkraut, also tried grated carrot, zucchini as suggested for added moisture. Caraway seeds or fennel seeds for different flavor. For the oil I have used liquid coconut oil and hempseed oil mixed, bacon fat melted,esp with the sauerkraut and caraway seeds, delicious. 2 thin  slices of this a day keep the bread demons away on a keto WOE. Even non keto'ers enjoy it. Great with nut butters, liverpaté or wurst,  cheeses, nosugar jams n butter, cream cheese and smoked salmon. Excellent for a base for Danish style open face sandwiches, you don't miss the rugbrød at all!  Super adaptable recipe. 

Excellent substitudes. My family will enjoy the bacon and sauerkraut addition.   I have added cranberries, ginger and cinnamon.
Zucchini toast
This recipe is fantastic! I live on a Ketogenic diet and having a slice of "toast" with scrambled eggs or just with dripping or avocado has been a God-send. Spartan!
Nutrition
Does the nutrition really add up? The calories per serving say 231. That means you can get 20 slices from the loaf? Is that the smallest loaf? If so, that's a tiny slice! Still, looks amazing and I can't wait to try it!
Nutrition
Yes, I cut and measured the slices, and divided the number of slices up in the total ingredients. - max
Soaking the seeds & nuts
Do you soak any of the seeds & nuts? And if so can you add them wet?
I soak nuts and seeds.  Soaking gets rid of processing dust and softens the impact of hard to digest lectins.  Chopped apples could be a nice addition with added cinnamon.  Lovely and versatile recipe. 
nut bread
Can you replace the eggs for flax seed and chia seeds which make a sticky paste, I use it in cakes instead of eggs?
Nordic-Paleo- nut- bread
great video! i made the bread and it is delicious!! easy to make and good for you- thanks!!
with chia seeds added!
Fantastic! I made this last night and had it for toast this morning with some vegemite! I forgot to buy the sesame seeds so I threw in some chia seeds and tahini (sesame paste) instead. Tak!
Tak means thanks in Danish
Nordic nut bread
I made this bread the other day. Wow, it was AMAZING! I did grind the flax seeds, only had 4 eggs so added a tablespoon of chia seeds soaked in 2 tablespoons of water, worked really well. Served it with fig paste and goats cheese, a big hit. I cut a few thin slices and baked in the oven to make my own version of biscotti, again, amazing. Thanks for sharing. Will definitely be making again and again :-)
Thanks for some great ideas!!!
Did you add the optional 1/4 water?
How long does the bread stay fresh, do you have to put it into the fridge, did you ever put some in the freezer ? Than you.

Toast UK
Made this with Zucchini and added a Tablespoon of organic beef dripping. Delicious toasted with scrambled eggs and bacon!
The Nordic nut bread
Fantastic. Have made four of these now and am enjoying experimenting with the ingredients. Three carrots and the nuts ground a little is my favourite. The carrots keep it moist and yieldy. I tried cashews this week and the taste was superb. Thanks for the great recipe.
Shelf life
I got a little coffee shop and will like to include this for the store, but will like to know if you have any recommendation about how to preserve this bread for at least 1 week? Best regards George
Shelf life
HI George, since I make one loaf and cannot eat it in 4 days...I freeze than when I like to eat it, take out and toast. Delicious. Another thing I am doing after the baking (since my loaf is very humid), I dehidrate all slices and it is just perfect. Hope to have helped you. regards Ingrid
Shelf life
It has eggs, so in my experience it goeas bad after about 3-4 days when not in the fridge. In the fridge it easily lasts a week. - max
I make this all the time.  It freezes really well.
rosmarin
Hello there, here Bruna, from Brazil, thanks for posting everything in english. I added 2 teaspoons of rosmarin (dried), and it tastes really good. Also tried with brazilian nuts, hazelnuts and peanuts, instead of pumpkin seeds, poppy seeds (very hard to find over here) and almonds. Brazilian nuts are heavy in oils so, maybe, a little less olive oil I will try, next time. Very good bread.
Nordic nut bread
This bread looks just awesome! however it is not realistic to make... it is too expensive- for example in Israel the ingredients for one loaf cost is 18$ USA!!! Also to eat a sandwich that only the bread is 462 calories is too much, the slices are not that big, it is not enough as a whole meal.
What the heck kinda question is that? 
Jesus was a jew!  He loves you so much that He suffered and died for you 
I LOVE Israel!  Went there for our 25th Anniversary!  Felt like "home!" 
4620 kcal. It would be great, if the loaf was only 462 kcal.
Sonja
The best paleo/lchf bread ever! Thank you for the recipe!
Zucchini toast
This recipe is fantastic! I live on a Ketogenic diet and having a slice of "toast" with scrambled eggs or just with dripping has been a God-send. Spartan!
Nordic Nut Bread
Oh Yeah, this recipe is a Winner. Max's video is Awesome , too. First time making it and it came out Fantastic. Oh, and do not cut down the amount of salt 2 teaspoons - using measuring spoons - is right on point - it is perfect. Wondering, Max, how many tries did you have to go through to get it to perfection? A job Well Done!! Fran
Nordic Nut Bread
Oh, and I forgot to mention that I used 6 and a half tablespoons extra virgin olive oil and only 1/3 cup water. Just fantastic. Thanks Max Fran
How long does the bread stay fresh, do you have to put it into the fridge, did you ever put some in the freezer ? Than you.

Less oil
Just made this. Very tasty. Added a punnet of fresh blueberries. Doesn't need as much oil. I'm guessing half? Possibly due to berries but mine is a bit too oily.
Nordic nut and seed bread
Just saw a video for this on youtube. It looks amazing ! Can't wait to try it :)
how much water
you mention optional water but don't mention how much
how much water
It is under the dry ingredients :-S - max
He does has mentioned it, you can find it in the list of ingredients: 100 grs :-) 
Nordic nut bread
This is perfect EXCEPT I cannot have eggs. Has anyone tried this with egg replacer? I think I will, and do the small silicone cake rounds. Perhaps half recipe. It is just too good to miss, no yeast, just wonderful.
Nordic nut bread
Some people have mentioned that they are allergic to eggs. I have used almond milk or soya milk [both unsweetened] as the liquid to bind the nuts and seeds together. Start with a half cup and add small amounts from
there.It
works well but less is better as too much liquids makes the 'bread' or buns too wet. There is greater risk of them going mouldy quicker.
Nordic nut bread
Did the mixture really hold with just milk? Sounds amazing, as I would like to try without eggs sometime. Just made with eggs, though, and it is delicious! Thanks, Max!
Nordic nut bread
I'm just discovering this recipe, so I hope I don't lead you to disaster, but I also cannot have eggs. I've learned that grinding zucchini in the food processor is a great addition to ground meat for meatballs. I will use it in this recipe as well. BTW, I also add GF ground oats to my meatball recipe. That way I have a quick grab and go food handy, especially if I can't take my soup along. :)
Nordic nut bread
I have made these lots of times now and tried several variations of this recipe. I always make little loaves suitable to take for lunches. I don't add salt or oil, nor do I miss them. I have reduced the number of eggs and I add rice milk sometimes if the mixture is a little dry. It gives them a nice sweet flavour and moist texture. I also add a teaspoon of agave [works well]. You could use honey instead. I have added rosemary [works well], curry powder [required taste!]. I find them great to keep hunger away. However does anyone know if they are allowed on a weight watchers diet.
Anything is allowed on WW you just have to count the "points". You may be penalized pointwise because of the relatively high fat macros of this. WW is lowfat high carb with restricted calories. Keto is Low carb highfat , no calorie counting, eat to satiety. Check dietdoctordotcom to see how it works. 
Being vegan I use one tablespoon of flax seeds to three tablespoons of water to replace one egg and it works just fine since flax seeds are akin to linseeds, and lineseeds are hard to find in my area of the California Sierra in bulk.

I understand they are the same thing.
Flax seeds are linseeds. 
Try using a half cup of chia seed either whole or ground up and mix with a cup of warm water, let sit for ten to twenty minutes until it gels and then add to your dry ingredients and oil, , may need a bit more water. Will require a bit of elbow grease to mix it in with the rest of the ingredients. You could also try making a veganaise with soymilk and oil and use that instead of the eggs possibly. 
Excellent!
I make this with zuchini and 2Tbs unflavoured beef gelatin, 1Tbs Inulin (prebiotic) and a teaspoon of Bullion veg stock powder. poppy seeds are a must! I also use ghee instead of oil - amazing!
Sourcing
I love this bread with cheese. Do you have a source in Denmark where you buy the nuts and seeds at a reasonable price?
Sourcing
No. I buy the almond flour in Germany through ebay or amazon. About €10 / kg - max
You can buy premade small portions of mixes of nuts and seeds for paleo bread in grocery stores in Dk. 
This site NORDIC EXPAT SHOP offers all kind of Danish and Nordic products shipped worldwide. Here is a link to their Rye Bread section and to their nuts and seeds section. Prices are reasonable but shipping can be a bit pricey. 
Mvh. Martin
Looks Great!
This looks great! Looking forward to trying the recipe!
A Great Recipe
I made this for the first time last weekend: it came out looking just like the video and it tasted wonderful! This is a recipe that I will be definately be making it again. Here in the UK, my local supermarket (Tesco) sells 200g bags of mixed nuts and 300g bags of mixed seeds. I used these with 4 eggs and a little less oil. Be careful with the salt, and beware that the bread is very stickly so completely cover your tin with greaseproof paper (even if it is non-stick).
How long does the bread stay fresh, do you have to put it into the fridge, did you ever put some in the freezer ? Don't want to spoil something, bc uts are expansive here in the Netherlands. Than you.

nordic nut bread
'yum' I'm eating my sliced nut bread with a little honey. Great for breakfast.
Nordic nut and seed bread
Oh my goodness... I LOVE this bread. It's amazing. I will always make it. I love it toasted with my home made almond butter or butter and Smucker's low carb jam. It's a low carber's dream come true. It's so healthy, and filling. Make a great breakfast or snack.
Did I miss recommended oven temperature and duration of bake?  Looked everywhere.   Making first loaf now at 350 f.    Best way to test doneness?   I added bit of honey and both oil and water.   Also salt as listed.   I did whiz it all briefly in cuisinart before mixing.   Smells good!   
Hes all like...... sheeeeeeeeeeeiiiiiiiiit
Yup! I appreciate for providing us such an awesome recipe. This nuts bread looks very tasty, I want to eat this right away:). thenuthouseusa.com is providing the nordic nuts in wholesale.