http://www.kvalifood.com>
Almond buns for burgers and sandwiches - Paleo buns
Video recipe - When browsing paleo sites I have often seen recipes for almond buns and oopsies. I found that the almond buns looked interesting. So I have been experimenting with those a lot. This is the recipe I have developed. They are a lot easier to make than regular buns and they taste better too. So I make them often now.
Ingredients
yields 6
6 eggs (M/L)
100 g (3½ oz) butter (or any other type of fat)
150 g (6 oz) almond flour - (3 dl (1½ cup))
2 tsp baking powder
Directions
Melt the fat at as low a temperature as possible. It has to be mixed in with the eggs, and there is no reason to scramble them by adding burning grease.
Put the eggs into a bowl and mix them loosely together.
Add the fat. Mix it in.
Put the almond flour on top.
Spread the baking powder as evenly as possible over the almond flour.
Mix it all into a batter that is mostly free of lumps.
Pour it into the molds. About 1 dl (½ cup) in each.
Bake at 175°C (350°F) convection for 15-20 minutes. In my molds and oven I have to bake them for 20 minutes.
Let them cool. Split them in half when serving.
Store in the refrigerator. They can be toasted.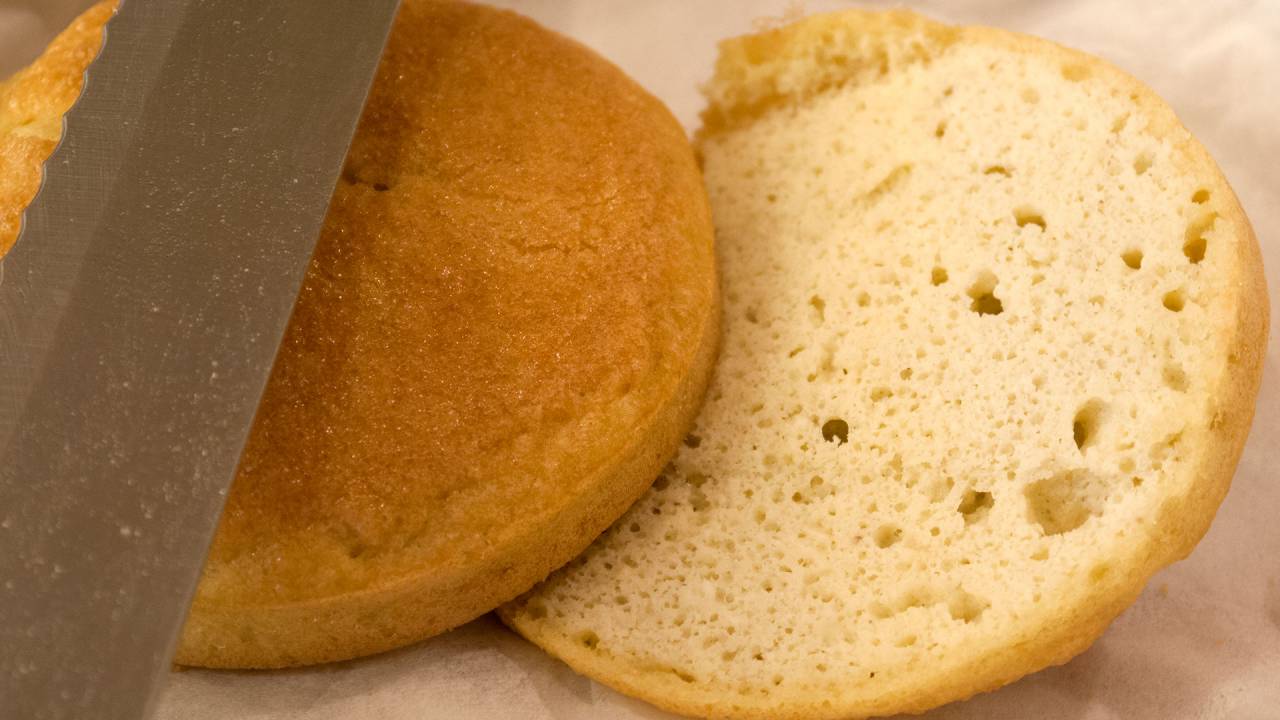 They are soft to chew. Making them suitable for burgers. The crumb looks like this.
-
Max M Rasmussen
Notes
You must use molds for this recipe. Mine are 120 mm (5 inches) in diameter. you can find them in online stores. Without the the molds they will flatten completely.
My molds are called "Disco Per Biscuit - Pavoni Formaflex Molds" - Pavoni being the brand.
I found a set here:
http://www.rakuten.com/prod/silicone-bakeware-sponge-base-4-7-oz-4-05-diam-x-0-79-high-3-cavities/225748396.html
You can use butter, chicken fat, lard (pig fat), coconut oil or other types of oil as the fat. Even rendered bacon fat is fin. But the bacon flavor can become overwhelming if you use just that.
If you make your own almond flour, you don't need to deskin the almonds. The buns taste the same. And it is A LOT easier not to do it.
If you want to go completely paleo and avoid the baking powder, you can just whip the egg whites stiff and fold them in at the end. Just before baking.
These buns are also good as "gluten free french bread slices"
Thank you for this recipe! I put mine in regular muffin tins with chopped ham and shredded cheddar cheese and they were delicious. So much so that I next tried adding blueberries, almond and vanilla extract, tblsp. of maple syrup, applesauce and cinnamon. Also excellent! A real keeper.

I am on a ketogenic diet because of a medical condition and I'm so grateful for this quick, easy recipe which can used as savoury or sweet. I'm from the UK so used Yorkshire Pudding baking tins. Can they be frozen?
I'm sure they can be. Reheat in a toaster or toaster oven when you're ready to have them.
I make them all the time and keep them in the freezer so I always have one when I want one.
Thank you Kvala first. To anonymou: Very creative. I have taken note and shall try this. 
I absolutely love these!  I didn't have molds, but used individual aluminum pie pans.  Perfect size and super cheap.  Thanks for the great recipe.  
I also used mini pie molds, they work just fine!

These buns have made my keto diet much more versatile. I make mine with ground almonds from Aldi, which works out a lot cheaper than almond flour. Like another UK poster, I use Yorkshire pudding tins. I just wish mine were a more uniform shape like in the photo. Mine rise in a high peak. Maybe I need to reduce the baking powder?

Hey man you kinda look like Russell Crowe!!! :D BTW love your buns! ;)
Kvali is a much more handsome man than Russel Crowe IMO. He is more refined and gives off a much more sophisticated vibe. Crowe seems like the kind of guy Kvali would hire as a chauffeur or a valet.
I am so glad to have found this recipe! I did modify it - my backyard eggs are really large, so I used 5 instead of 6. And I used 1 cup of super-fine almond flour and 1/2 cup of fine. Gave the rolls more body. And I added a wee bit of salt. ☺☺☺
Absolutely simple and delicious. Thank you!
Hi eller hej,
Hvor har du købt din silikone form?
Med venlig hilsen NinaP
Has anyone tried baking these with an egg substitute? 
Flax egg, Just Egg (mung bean product), or other?
I am new to baking, but want to try this for my son. What does it mean" to whip the egg whites stiff and fold them in just before baking" , if there is a reference video will help me a lot. Also will it be the whites from the recipe eggs or extra eggs?
Good!
I did make these, we loved them. Mine came out grainy, like cornbread. We put them under chili and were thrilled. I used english muffin rings. Now I am going to try to figure out how to use them to make tamales. All of the low carb tamale recipes use baby corn, and come out about 8g carb each. Too much for me. Thanks for a great recipe
Can you please post the nutritional stats
How mny carbs would these be please
Can you please post the nutritional stats
Per serving: 349 calories 32.2g fat 6.4g carbs 12.4g protein
Can you please post the nutritional stats
Hi, Is there any fibre that can be deducted from the 6.4g carbs? - or has this already been deducted? Thanks!
Can you please post the nutritional stats
- so I just posted above and by my calculations each bun should be under 3g carb net for those ketogenic dieters out there.
Can you please post the nutritional stats
Thanks really needed to know that cause I am one of those kenogenic dieters.
Can you please post the nutritional stats
3 Fibre pre serving
Molds for these buns
Get these molds on AMAZON. 1/2 the price of the name brand used in the video but exact same product.
Queries
Can i use oatmeal instead? And add almond extract for the almond flavour?
Queries
If you use oatmeal, then they are not Paleo. Make more sense to just make a regular wheat bun, if you do not want a Paleo bun.
Who cares if it's Paleo.  Wheat has starch, which is bad for high blood sugar.  Oatmeal is not a starch.  So there is no comparison to wheat.  Not to mention the people who are gluten intolerant. 
Who cares if it's Paleo.  Wheat has starch, which is bad for high blood sugar.  Oatmeal is not a starch.  So there is no comparison to wheat.  Not to mention the people who are gluten intolerant. 
This is a low carb recipe, so for that reason most readers care if it is low carb. Many Blessings 
Queries
No. Oatmel will suck up a lot more of the moisture. it will not work with this recipe. - max
pretty good
I made these and they have a very nice texture, but I would call them egg buns-- egg is by far the dominant flavor. Mine are very yellow from the yolks as well. Thanks for the recipe.
Almond Buns
You have me very curious about these buns. They sound great! I'm having trouble finding the the bun molds, the largest I've seen is 3 1/2" Diameter. Do you have a recommended source?
Almond Buns
And they ARE worth being curious about ;-) I have spend an hour trying to find a non danish dealer. no such luck. Plenty of places sell "Pavoni Formaflex Molds" - you could probably ask one of them to get you these. but any 4-5 inch round baking mold will do. There are several non-stick aluminum pans available.
Almond Buns
Get the molds from AMAZON. 1/2 the price of the name brand stuff.
I love your Almond buns recipe, could I cut down on the required 6 eggs and say use 3 eggs to be able to get the same tasting results. I'm trying to be health conscious to cut down on cholesterol use from the eggs? 

Almond Buns
U can find that bakeware (Freshware SL-116RD 3-Cavity Silicone Disc Cake) on Ebay for under $13 (with free shipping).
Almond Buns flour options
I have known that are some persons are allergic to almond in any type of presentation; what would you recommend as an option, to change the flour ingredient? could it be use a wheat flour?
Almond Buns
I am sure it won't matter making the buns half the size - am going to try these in my smaller cake tins
Almond Buns
ifound them on amazon from "fressware".
My new fav bread
What I like the most about these buns is that they held together extremely well! I made these using a muffin top pan, not a silicon mold and they came out perfect. I measured out 6oz almond meal using my food scale and added onion powder because I was afraid these would be too eggy but they tasted great. I sprinkled some sesame seeds on top and they tasted like storenbought wheat buns, so good. Using leftovers for a breakfast sandwich.
DELISH!
My molds came in today from Amazon and I made these buns. They came out perfect. I'm thrilled to have this recipe and I was thrilled to eat a great big ham and cheese sandwich.
Almond buns
Can I use baking soda instead of baking powder?
Almond buns
no. there would need to be some acid for that to work. - max
Yes, baking soda and vinager
I really love your blog..
An hour ago, I made a comment, asking you: what may it be, the flour option...and I just tried with wheat flour, and I added a little salt, a little of minced garlic and some chopped parsley... and WOW.... they are incredibly tasty and also look real good! THANKS A LOT!
Almonds buns
Can u microwave this recipe?
Almonds buns
I have never tried it, so I have no idea. - max
Yes, at least a minute at a time until you know how much time you'll need  
Easy, Satisfying, Tasty
You had me at 4 ingredients. Fabulous super easy recipe! I am working hard to keep my Type 2 Diabetes under control and these will certainly help. Thank you Thank you Thank you!
Easy, Satisfying, Tasty
I forgot to add I used 4" spring form pans.
Almond Buns
Absolutely delicious. Made these for the first time tonight and this one of the best tasting Paleo bread/bun recipes I have tried so far. Thanks so much!!!
Some tweaks - 1/2 recipe and less eggy flavor
Got to this recipe from r/keto. This is such a great recipe - so simple and quick I can make them while the grill is heating up for my burgers. Way easier than any other keto bun or bread recipe I've found. I have a couple of tweaks. I only bought one mold so I make a 1/2 recipe. I melt 1 tsp butter in the bowl first - no need to dirty another dish - then add 3 eggs, whisk, then add 3/4 cup almond flour and 1 tsp baking powder then mix again. So folks say they have too much egg flavor. That's easily solved. I've made this recipe with 1 whole egg plus three egg whites. It comes out perfectly. BTW, never waste egg yolks. I fry them gently and top my burgers with them - yum!
forme?
Hej! Super fede latexforme du har... hvor finder man dem? Tak for nogle fede videoer! Kh fra Mette.
forme?
Probably better asked in danish on
kvalimad.dk
:-) but I bought them in H.W.Larsen. You can do it online. - max
almond buns
The almond flour has a range 6 to 12oz. Any idea why a range is given? I want to try this reciepe soon. Thanks
almond buns
Where do you get that from? The recipe says 6 oz.
almond buns
From the recipe - 150 g (6 oz) almond flour - (3 dl (1½ cup)), 1 1/2 cups =12 oz. It would be nice to know if its 6 or 12 ounces.
almond buns
I assume that the 1.5 cup = 12 oz is a conversion you have found somewhere online, as it is not in my recipe. A US cup is 2.5 dl. So 1.5 cup is 3.5 dl. And 3 dl weigh 150 g. I have both meassured and weighed before writing the recipe. I rounded up to 1.5 cup which weigh 175 g or 6.1 oz. - max
almond buns
Just an FYI: the mix-up is probably because in US/UK measurement systems, the ounce (oz) can be either for volume (fluid ounces) or weight. It's trickier than using the metric system because almost all recipes never state which ounce they mean, relying on everybody just "knowing" which is meant. Happy New Year! (Love your site, recipes, and especially your videos!)
In the US we use dry and wet measuring cups. Just "knowing" wet from dry ingredients isn't too difficult. Use a glass measuring cup for liquid and metal (or plastic) for dry.  
1.5 cups of almond flour is 12 ounces by VOLUME
1.5 cups of almond flour is 6 ounces by WEIGHT
1 ounce of almond flour is 28.3 grams , .25 cup

I'm not a baker but would love to try this. Can someone convert the recipe to cups and tsp or tbs measurements please?
It's i,5 cups of almond flour, and just about a whole stick of butter (4/oz minus 1pat)
To remove confusion, perhaps just say it directly - The recipe will need 1.5 cups of almond flour. 
It's 1.5 Cups, US. I just made these and they are AWESOME! I was confused too, but I used the direct conversion (not dry). I also used butter instead of lard or any other fat. They came out beautiful! Also, in my oven, it took 30 min to get a nice brown bun at 350 degrees.